After many years of friend's suggesting I explore this software I have finally taken the plunge and installed Home Assistant. If you don't know what this is it's essentially open-source software that is designed to connect to any of the devices in your house such as IoT devices, smart-lights, routers, TVs, cameras, alarms and so forth.
I consider myself smart-home curious and we explored it when we built our house but ultimately decided not to bother with getting a full smart-home solution. The commercial offerings for this in Australia were at the time around $30K AUD and we didn't see a need to justify the expense at the time. That said, we have a collection of devices which can be automated and I thought it fun to see what it would connect to.
At first I setup Home Assistant using Docker on my media box which I thought would give nice isolation and would be low maintenance. This turned out to not be the best way to do it because a lot of the Home Assistant ecosystem relies on plugins and these require the OS or installed version of the product. I backed up and ditched that version, moving across to using the VirtualBox edition. I'm not perfectly happy with this because it does use a lot of resources, somewhat inefficiently, but it gives all the advantages of running a dedicated machine. Over time I'll likely move to a Raspberry Pi based solution.
Installing and configuring the software was pretty straightforward. Out of the box it detected or easily integrated with:
TV
Ring doorbell
Robot vacuum cleaner
Air conditioner
Chromecast
Fire TV
Sonos sound system
Tile key trackers
Router
Printer
I had to spend a bit more effort getting my Enphase solar system to connect. Luckily someone created a guide, but this was a bit tricky for a home assistant newbie. Likewise the PS5 was a bit of extra effort but I got it integrated using ps5-mqtt.
I have kept it minimal with addons but so far I'm using:
File Editor
HACS
Studio Code Server
Tailscale
Terminal
The most impressive is Studio Code Server which gives you VSCode in your browser to edit the Home Assistant files.
I built a dashboard which I'm pretty happy with although it has been minimally customised.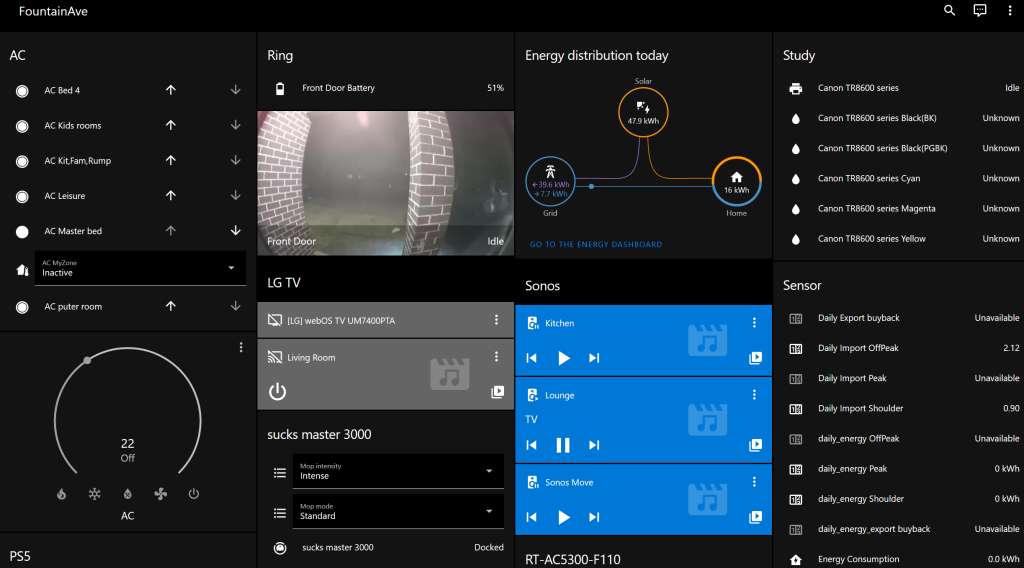 Next step will be automations although I don't have any great inspirations of what I need right now! I'm sure it will come in handy. If not it's fun just having a great dashboard that allows you to see everything in one place.
Have you played with Home Assistant? What are you using it for?